Foundation Course 2023-2024
Foundation Course 2023-2024
0( 0 REVIEWS )
11 STUDENTS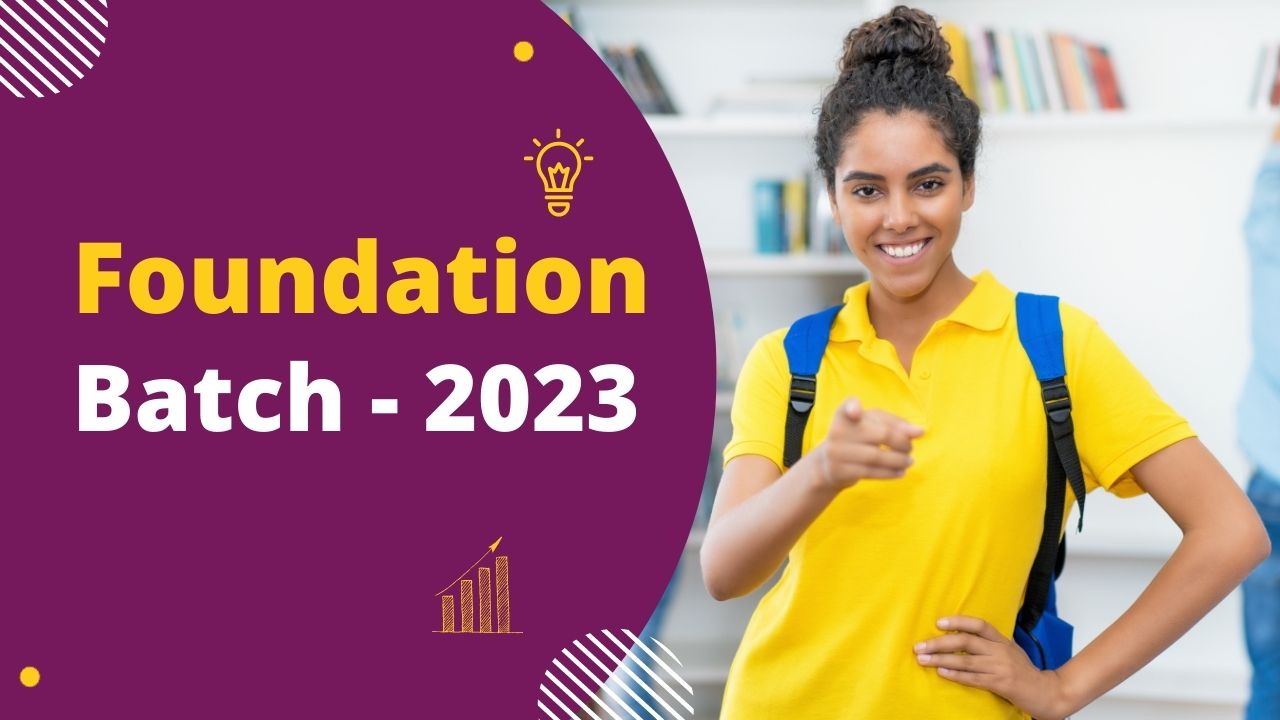 Civil Service Foundation Course
Gallant IAS with its proven track record of providing UPSC coaching in Trivandrum, Kerala  . GAllant IAS provide Civil Service Foundation Course in Trivandrum ,Kerala and  is gearing up for a new set of aspirants! With us, you can now receive excellent offline and online UPSC Civil service coaching. Our classes are affordable and effective. They are aimed at helping even the most average student successfully clear the UPSC examination – on the very first attempt!
IAS Foundation Course
Our Foundation Course emphasizes the very basics of the UPSC Civil Service Examination. Gallant is the best ias academy in Trivandrum ,Kerala
Remember that no building can stand if the base, the foundation is not strong.
Our basic Civil Service Foundation Course in Trivandrum, Kerala,  is mainly for the UPSC Civil service examination and it  aimed at creating a high scope of understanding of the UPSC civil service examination pattern and syllabus.
So come let's build the future together!
Our building Blocks
BLOCK I
• General understanding of the syllabus
• Know the basics of Polity, Geography, History, Economics, etc. through Parables and stories
BLOCK II
• 3N strategy – NCERTS, Newspaper Analysis, Note making
• Know the optional
BLOCK III
• 3C Building -Courage, Confidence, Conquer
• Possible career options for civil service aspirants in various government sectors
BLOCK IV
• RRR Strategy
• MMM Strategy
• SSS Strategy
Why Gallant IAS?
So what makes our foundation course the best in Kerala? How do we consistently rank among the top civil services foundation  training academies in Kerala?
Here are a few reasons
• Course is designed under the expert guidance of Justin George Sir, who is a veteran in UPSC coaching.
• Learn under the personal guidance of our team of vibrant and expert mentors.
• Consistent motivation and opportunities for improvement from peers, alumni, and faculty.
• A proven, result-oriented approach to UPSC examination coaching
• Smart and Hybrid Classes to cater to the needs of all kinds of students
• Thorough Academic Orientation through carefully curated syllabus and support materials.
• Avoiding mistakes at the early stage and fine-tuning your strategy
• Be at the right place at the right time
Course Curriculum
Introduction
Introduction | Foundation Batch

FREE

00:25:00

Foundation Basics | Foundation Batch | Young IAS

00:23:00

News Paper Approach
Current Affairs approach Newspaper Strategy | Current Affairs| Foundation | Young IAS

01:22:00

Newspaper approach and editorial approach | PCM 2023

01:00:00

History
Geography
Orientation | Geography| Foundation Batch | Young IAS

00:18:00

The Universe | Geography | Foundation Batch | Young IAS

00:47:00

Topic 1 – The Universe | Geography | Foundation Batch | Young IAS.pdf

00:10:00

Earth | Geography | Foundation Batch | Young IAS

01:00:00

Topic 2 – The Earth | Geography | Foundation Batch | Young IAS.pdf

00:10:00

Domains of Earth -1 | Lithosphere |Module_2 | Geography | Foundation Batch | Young IAS

00:41:00

Domains of Earth -1 | Hydrosphere | Module_2 | Geography | Foundation Batch | Young IAS

00:42:00

5 Major Landforms of The Earth -1 | Geography | Foundation Batch | Young IAS.pdf

00:10:00

Domains of Earth -2 | Atmosphere | Module_2 | Geography | Foundation Batch | Young IAS

00:43:00

Domains of the earth – ii | Geography | Foundation Batch | Young IAS.pdf

00:10:00

Interior of Earth | Module 2 | Geography | Foundation Batch | Young IAS

00:44:00

Interior of Earth & rocks | Geography | Foundation Batch | Young IAS.pdf

00:10:00

Major Landforms of The Earth | Module 2 | Part-1| Geography | Foundation Batch | Young IAS

00:55:00

Major Landforms of The Earth | Module 2 | Part- 2| Geography | Foundation Batch | Young IAS

00:41:00

3.Major Domains of Earth – 1| Geography | Foundation Batch | Young IAS.pdf

00:10:00

Soil – Major Crops | Module 7 | Geography | Foundation Batch | Young IAS

00:55:00

Minerals & Natural Resources – Industries | Module 8 | Geography | Foundation Batch | Young IAS

00:18:00

Climate & Indian Monsoon | Module 9 | Geography | Foundation Batch | Young IAS

01:11:00

Economy
Orientation | Economy| Foundation Batch | Young IAS

00:22:00

Polity
Introduction to the Constitution | Indian Polity | Foundation Batch | Young IAS

00:30:00

Introduction to the Constitution _ Indian Polity |Part-2 | Foundation Batch | Young IAS

00:51:00

Salient Features of Indian Constitution | Module – 1 | Part – 1 | Indian Polity | Foundation Batch | Young IAS

01:12:00

Salient Features of Indian Constitution | Module 1 | Part -2 | Indian Polity | Foundation Batch | Young IAS

01:28:00

Salient Features of Indian Constitution| Module 1 |Part -3 | Indian Polity | Foundation Batch | Young IAS

00:32:00

Indian Form of Federalism | Module 2 |Part -1 |Indian Polity | Foundation Batch | Young IAS

00:50:00

Indian Form of Federalism | Module 2 |Part -2 |Indian Polity | Foundation Batch | Young IAS

01:20:00

Indian Polity | Module 2 |Indian form of federalism.pdf

00:10:00

Parliamentary Form of Government | Indian Polity | Foundation Batch | Young IAS

01:00:00

Indian Polity | Parliamentary form of government | Foundation Batch | Young IAS .pdf

00:10:00

Module 4,6 & 7 | Indian Polity | Foundation Batch | Young IAS

00:48:00

Indian Polity | Module 4 | Basic structure of the constitution.pdf

00:10:00

PREAMBLE OF THE CONSTITUTION | Module 5 | Indian Polity | Foundation Batch | Young IAS

01:19:00

Majorities under indian constitution_Module 6 _ Polity _PcM 2022.pdf

00:10:00

Indian Polity | Module 7 | Amendment to the constitution.pdf

00:10:00

The Union and Its Territory | Module 8 | Indian Polity | Foundation Batch | Young IAS

00:55:00

Indian Polity | Module 8 | The Union and Its Territory.pdf

00:10:00

Fundamental rights | Module – 9 | Part -1 | Indian Polity | PcM 2023

00:52:00

Fundamental rights | Module – 9 | Part -2 | Indian Polity | PcM 2023

00:51:00

Fundamental rights | Module – 9 | Part -3 | Indian Polity | PcM 2023

01:00:00

Fundamental rights | Module – 9 | Part -4| Indian Polity | PcM 2023

00:45:00

Fundamental rights | Module – 9 | Part -5| Indian Polity | PcM 2023

01:00:00

Fundamental rights | Module – 9 | Part -6| Indian Polity | PcM 2023

00:40:00

Indian Polity | Module – 9 | Fundamental Rights | Part – 1.pdf

00:10:00

Indian Polity | Module – 9 | Fundamental Rights | Part – 2 .pdf

00:10:00

Indian Polity | Module – 9 | Fundamental Rights | Part – 3 .pdf

00:10:00

DPSP | Module – 10 | Indian Polity | PcM 2023

01:20:00

Module 10 | Directive principles of state policy | Indian Polity.pdf

00:05:00

Fundamental duties| Module – 11 | Indian Polity | PcM 2023

00:28:00

Indian Polity | Module – 11 |Fundamental Duties .pdf

00:10:00

Environment
CSAT
Introduction & Numbers | CSAT | Foundation Batch | Young IAS

00:46:00

Numbers | CSAT |Module -1 | Part-2 | Foundation Batch | Young IAS

00:31:00

Operation of Fraction | CSAT | Foundation Batch | Young IAS

00:42:00

Average | Module -2 | CSAT | Foundation Batch | Young IAS

00:24:00

Assignment