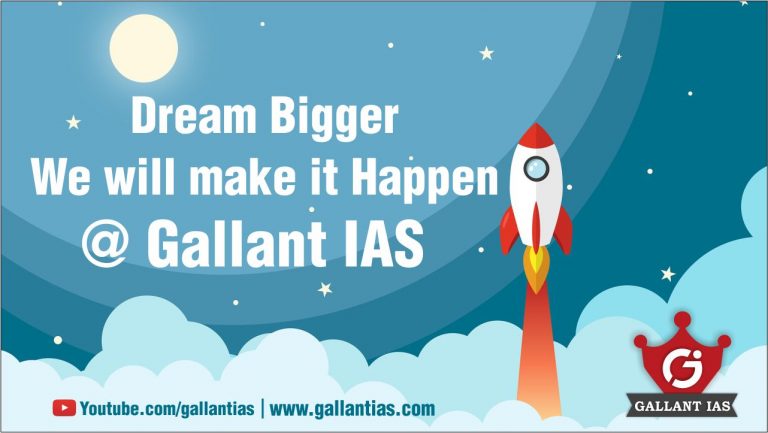 Gallant IAS is one among India's Reputed Institute for Civil Service coaching, located in Trivandrum,Kerala.We are committed and specially focused on those IAS | IPS | IFS aspirants, who find it difficult to take or clear UPSC CSE due to lack of effective guidance or due to unfavorable/unaffordable economic conditions.
We, at Gallant IAS, have decided to support such aspirants to fulfill their IAS, IPS dream by providing best quality classes in both Online and Offline mode and individual mentor-ship at an affordable fee till they clear the Exam.
Our features……
Prelims portions will be online accessible till Prelims 2024 and Mains portions will be available till Mains 2024 or completion of 10 views (Per video class), whichever is earlier.
Course completion in 600+ hours.
Exam specific skill development sessions
Experienced & Expert Teachers
Comprehensive coverage of both Prelims and Mains syllabus.
Small batch size of 40 for improved individual attention.
Topic-wise tests, monthly tests.
All India ranking assessment
Daily answer writing practice.
24×7 availability for doubt clearance
Newspaper analysis sessions.
Study materials available
Individual session for Motivation & support
Talk by Service toppers
Each student will be provided a mentor for effective guidance
What Comes Free …..
CSAT course worth 8000
Test series Prelims worth 6000
Test series Mains worth 12000
Budget & Survey sessions 3500
Current affairs sessions 6000
Starting of the Batch…..
June & October
OUR OPTIONALS
HISTORY OPTIONAL 2022-23
Course completion in 4 months(75 sessions)
Never before-all inclusive study materials
All India tests(8+4 full tests)
Answer writing guidance programme
Doubt clearance programmes
Individual mentorship
MALAYALAM OPTIONAL {MALAYAZHMA}
complete course in 60 sessions
12 unit wise test and 4 UPSC model full test
Detailed previous year questions analysis
Individual mentorship
Main focus on improving answer writing skill
Comprehensive class note material
BOTANY OPTIONAL
Art of Writing Botany Answers – Quality improvement Programme
Simple lucid explanation of theories & concept building.
Comprehensive, relevant and updated study material.
Doubt clearing session after every class.
All India Test Series.
(10 Unit wise Test & 4 Full Test)