Prelims cum Mains October 2022
Prelims cum Mains October 2022
0( 0 REVIEWS )
20 STUDENTS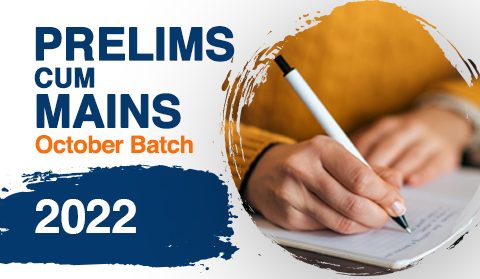 This course will have a very comprehensive, easy to follow & effective approach in the preparation of the Prelims Papers I and II and the General Studies Papers I to IV of the UPSC CSE Main Examination along with the Essay Paper.
The Prelims-cum-Mains course will also include Interview Guidance (DAF Analysis, Mock Interviews, Personality Development sessions etc.),
testTest Series and Study materials without any extra charges. Daily mains answer writing practice will be a part and parcel of the course along with the Test Series & Mentorship.
Course Curriculum
PcM 2022 Orientation Session
GS Orientation Session | PcM 2022

FREE

01:01:00

Prelims Syllabus |UPSC CSE | PcM

00:10:00

Mains Syllabus|UPSC CSE | PcM

00:10:00

Mains Strategy | GS Papers & Essay | By Manju Chandran

01:28:00

Prelims 2022-Doubt Clearing Session
Prelims Exam 2022 | Doubt Clearing Session | Part – 1 | PcM 2022

00:57:00

Prelims Exam 2022 | Doubt Clearing Session | Part – 2 | PcM 2022

01:00:00

Simplifying the Mystery of Prelims | Part-1 | PcM 2022

00:57:00

Simplifying the Mystery of Prelims | Part-2 | PcM 2022

01:00:00

Simplifying the Mystery of Prelims | Part-3 | PcM 2022

00:44:00

History
Ancient India
The Pre-historic India | Module – 1 | Ancient India | Pcm 2022

01:17:00

Pre-historic India | Module – 1 | Ancient India | PCM | ENG.pdf

00:10:00

Indus Valley Civilization | Part – 1 | Module – 2 | Ancient India | Pcm | ENG

00:47:00

Indus Valley Civilization | Part – 2 | Module – 2 | Ancient India | Pcm | ENG

00:51:00

Indus Civilisation | Module 2 | Ancient India| PCM.pdf

00:10:00

Vedic Civilization | Part – 1 | Module – 3 | Ancient India | Pcm | ENG

00:58:00

Vedic Civilization | Part – 2 | Module – 3 | Ancient India | PcM ENG

00:49:00

The Vedic Civilization |Module 3 | Ancient India |PcM 2022 | PDF

00:10:00

The Rise of Mahajanapadas | Module – 4 | Ancient India | Pcm | ENG

01:12:00

Mahajanpadas _ Module 6 _ Ancient India _ PCM.pdf

00:10:00

Buddhism and Jainism | Part – 1 | Module – 5 & 6 | Ancient India | PcM ENG

00:42:00

Buddhism and Jainism | Part – 2 | Module – 5 & 6 | Ancient India | PcM | ENG

01:00:00

Buddhism and Jainism | Part – 3 | Module – 5 & 6 | Ancient India | Pcm | ENG

01:22:00

5.Religious Movements in Ancient India-Buddhism.pdf

00:10:00

Mauryan Empire| Part – 1 | Module – 7 | Ancient India | PcM | ENG

01:00:00

Mauryan Empire| Part – 2 | Module – 7 | Ancient India | PcM | ENG

00:51:00

Mauryan Empire |Module 7 | Ancient India |PcM | ENG | PDF

00:10:00

Post Mauryan Period | Module – 8 | Ancient India | PcM | ENG

01:17:00

Gupta Empire | Module – 9 | Ancient India | Pcm 2022

01:24:00

Gupta Empire |Module 9| Ancient India |PcM | ENG | PDF

00:10:00

Post Gupta Kingdoms | Module – 10 | Ancient India | Pcm | ENG

01:15:00

Post Gupta Kingdoms | Module 10 | Ancient India |PcM | ENG |PDF

00:10:00

Medieval
Early Medieval India | Module – 1 | Medieval India | Pcm 2022

01:30:00

Early Medieval India (North India 750-1200 AD) |Module 1 | Medieval India | PDF

00:10:00

Imperial Cholas | Module – 2 | Medieval India | Pcm 2022

01:12:00

Imperial Cholas and others | Module 2 | Medieval India | PDF

00:10:00

Bhakti Sufi Movements | Part – 1 | Module – 3 | Medieval India | Pcm 2022

00:49:00

Bhakti and Sufi Movements | Part – 2 | Module – 3 | Medieval India | PcM 2022

01:01:00

Religious Movements | Module 3 | Medieval India | PCM | PDF

00:00:00

Vijaynagar Empire | Part – 1 | Module – 4 | Medieval India | PcM 2022

00:58:00

Vijaynagar Empire | Part – 2 | Module – 4 | Medieval India | PcM 2022

00:56:00

Provincial Dynasties | Medieval India | PDF

00:00:00

Mughal Empire Part – 1 | Module – 6 | Medieval India | PcM 2022

01:12:00

Mughal Empire | Part – 2 | Module – 6 | Medieval India | PcM 2022

00:55:00

Mughal Empire |Module 6 |Medieval India |PcM 2022 | PDF

00:10:00

Maratha Empire | Module – 7 | Medieval India | PcM 2022

01:13:00

The Rise of the Marathas | Module 7 | Medieval India | PCM | PDF

00:10:00

Advent of Europeans | Module – 8 | Medieval India | PcM 2022

01:13:00

Advent of Europeans | Module 8 | Medieval India | PCM | PDF

00:10:00

Modern India
What to Study? Modern India | PcM 2022

00:30:00

Later Mughals and Decline of Mughal Empire | Module – 1 | Modern India | PcM 2022

01:47:00

Later Mughals | Module 1 | Modern India | PDF

00:10:00

Rise of Autonomous states | Module – 2 | Modern India | Pcm 2022

01:20:00

Mock Test Discussion | Modern India | PcM 2022

00:12:00

Module – 2 | Mock test.pdf

00:10:00

Module – 2 | Rise of autonomous states | Modern India | PcM 2022 | PDF

00:10:00

British Conquest of India | Part – 1 | Module – 3 | Modern India | Pcm 2022

01:13:00

British Conquest of India | Part – 2 | Module – 3 | Modern India | Pcm 2022

01:12:00

British Conquest of India | Part – 3 | Module – 3 | Modern India | Pcm 2022

00:54:00

British Conquest of India | Part – 4 | Module – 3 | Modern India | Pcm 2022

00:55:00

British conquest of India | Module 3 | PcM 2021 | PDF

00:10:00

Socio-Religious Movements | Part 1 | Module 4 | Modern India | PCM

00:50:00

Socio-religious Reform Movements | Part – 2 | Module – 4 | Modern India | Pcm 2022

01:40:00

Socio-religious Reform movement | modern history PcM | PDF

00:10:00

Lower Caste Movements | Part – 1 | Module – 5 | Modern India | PcM 2022

00:58:00

Lower caste movements | Module 5 | Modern India | PCM | PDF

00:10:00

Tribal Uprisings in British India | Module – 6 & 7 | Modern India | PcM 2022

01:00:00

Tribal Uprisings in British India _Module 6 _Modern India PcM 2021.pdf

00:05:00

Civil rebellions |Module 7 | Modern India | PcM 2022.pdf

00:05:00

Company Rule and Governor Generals of India | Part – 1 | Module – 8 | Modern India | PcM 2022

01:22:00

Company Rule and Governor Generals of India | Part – 2 | Module – 8 | Modern India | PcM 2022

01:04:00

Company Rule and Governor Generals of India | Part – 3 | Module – 8 | Modern India | PcM 2022

00:54:00

Company rule and Governors _ Part1.Module 8_Modern India_ History PcM.pdf

00:05:00

Module – 8A | Company rule and Governors | PcM 2022.pdf

00:05:00

Revolt of 1957 | Module – 9 | Modern India | PcM 2022

01:19:00

Class Test Module – 8,8A & 9 | Modern India | PcM 2022.pdf

00:05:00

Mock Test Discussion | Module – 8, 8A & 9 | Modern India | PcM 2022

00:16:00

Constitutional reforms | Module – 10 | Part – 1 Modern India | PcM 2022

01:27:00

Constitutional Reforms | Part 1 | Module 10 | Modern India | PCM | PDF

00:10:00

Constitutional reforms | Module – 10 | Part – 2 | Modern India | PcM 2022

01:00:00

Constitutional Reforms Part 2 |Module 10 |Modern India|PcM 2021 | PDF

00:10:00

Rise and growth of Indian National Movement | Module – 11 | Modern India | PcM 2022

01:30:00

Rise and Growth of Nationalism | Module 11 | Modern India | PDF

00:10:00

Social Basis of Indian Nationalism | Module – 12 | Modern India | PcM 2022

00:35:00

Social basis of Indian Nationalism | Modern India | PcM 2022 .pdf

00:05:00

Moderate Phase of Indian National Movement | Module – 13 | Modern India | PcM 2022

00:52:00

Moderate Phase | Module 13| Modern India | PDF

00:10:00

Indian National Movement – The Extremist Phase | Module – 14 | Modern India | PcM 2022

00:55:00

Module 14 | extremists or militant nationalists (1906-18) | Modern India | PcM 2022 | PDF

00:06:00

Extremist or Militant Nationalists Phase | Module – 14 A | Modern India | PcM 2022

01:11:00

Module 14A | Extremists or Militant Nationalists Phase | Modern India | PcM 2022 | PDF

00:10:00

Revolutionary Movements and Revolutionary Movements after World War – 1 | Module – 15 &15A | Modern India | PcM 2022

00:59:00

Revolutionary Movement & Revolutionary Org and Leaders | Modern India | PcM 2022 .pdf

00:10:00

Revolutionary Movements after World War – 1 | Module – 15A | Modern India | PcM 2022.pdf

00:05:00

Module 15 | MODERN INDIA | Mock Test 2.pdf

00:10:00

Mahatma Gandhi in South Africa | Module – 16 | Modern India | PcM 2022

00:52:00

Mahatma Gandhi in South Africa | MODULE 16 | PDF

00:10:00

Gandhiji in Indian National Movement | Module – 17 | Modern India | PcM 2022

01:20:00

Mahatma Gandhi In Indian National Movement-His Earlier Career | Module-17 | PDF

00:10:00

Khilafat Non Cooperation Movement | Module – 18 | Modern India | PcM 2022

01:04:00

Khilafat Non Cooperation Movement | Modern India | PDF

00:10:00

Congress – Khilafat Swarajya Party Module – 19 | Modern India | PcM 2022

01:06:00

Congress Khilafat Swarajya Party | Modern India | PDF

00:10:00

Bardoli Satyagraha | Module – 20 | Modern India | PcM 2022

00:38:00

Bardoli Satyagraha | Modern India | PcM | PDF

00:10:00

The Civil Disobedience Movement | Part – 1 | Module – 21 | Modern India | PcM 2022

00:57:00

The Civil Disobedience Movement | Part – 2 | Module – 21 | Modern India | PcM 2022

01:06:00

Civil Disobedience Movement | Modern India | PDF

00:10:00

Government of India Act 1935 & Congress ministries | Module- 22 & 23 | Modern India | PcM 2022

00:36:00

Government of India Act 1935 | Modern India | PDF

00:10:00

Rise and Growth of Left-Wing Within The Congress, Congress Socialists and Communists |Module 24 | Modern India | PcM 2022

00:50:00

24. Rise and growth of left-wing within the congress.pdf

00:10:00

Peasants Movements | Module 25 | Modern India | PcM 2022

01:00:00

State Peoples Movements | Module – 27 | Modern India | PcM 2022

00:50:00

Indian National Movement | Module – 28 | Modern India | PcM 2022

00:59:00

Quit India Movement | Module – 29 | Modern India | PcM 2022

01:15:00

INA, INA Agitation and RIN Mutiny | Module – 30 | Modern India | PcM 2022

00:53:00

Indian National Army (INA) and naval mutiny | Modern India | PcM 2022 | PDF

00:10:00

Achievement of Freedom and Partition | Part – 1 | Module – 31 | Modern India | PcM 2022

00:32:00

Achievement of Freedom and Partition | Part – 2 | Module – 31 | Modern India | PcM 2022

00:32:00

Achievement of freedom and partition of India | Modern India | PcM 2022.pdf

00:10:00

Art and Culture
Art and Architecture | Part – 1 | Art & Culture | PcM 2022

00:47:00

Art and Architecture | Part – 2 | Art & Culture | PcM 2022

00:55:00

Art and Architecture | Part – 3 | Art & Culture | PcM 2022

00:52:00

Art and Architecture | Part – 4 | Art & Culture | PcM 2022

00:46:00

Art and Architecture | Part 5 | Art & Culture | PcM 2022

00:38:00

Art and Architecture | Module 1| Part – 1 | Art & Culture | PcM 2022.pdf

00:10:00

Art and Architecture | Module 1| Part – 2 | Art & Culture | PcM 2022.pdf

00:10:00

Indian Schools of Painting | Part – 1 | Art & Culture | PcM 2022

00:40:00

4. Indian painting | Part – 1 | Art & Culture | PcM 2022.pdf

00:10:00

Indian Schools of Painting | Part – 2 | Art & Culture | PcM 2022

00:50:00

5.Indian Painting | Part – 2 | Art & Culture | PcM 2022.pdf

00:10:00

Theatre Traditions | Art & Culture | PcM 2022

00:35:00

6.Traditional Folk & Theatre Forms | Art & Culture | PcM 2022.pdf

00:10:00

Martial Arts | Art & Culture | PcM 2022

00:21:00

7.Martial Art Forms of India | Art & Culture | PcM 2022.pdf

00:10:00

Dance Forms | Art & Culture | PcM 2022

01:06:00

Intangible Cultural heritage | Art & Culture | PcM 2022

00:16:00

10. Intangible Cultural Heritage | Art & Culture | PcM 2022.pdf

00:10:00

Polity
Introduction & PYQ Analysis | Indian Polity | PcM 2022

01:00:00

Introduction to Constitution | Module – 1 | Indian Polity | PcM 2022

01:20:00

Introduction to Constitution | Module 1 | Indian Polity.pdf

00:10:00

Salient Features of Indian Constitution | Module – 1 | Part – 2 | Indian Polity | PcM 2022

01:05:00

Salient features of our constitution Module 1 Polity PcM 2022 PDF

00:10:00

Indian Form of Federalism | Module – 2 | Indian Polity | PcM 2022

00:56:00

Indian form of federalism| Module 2 | PCM – PDF

00:10:00

Parliamentary Form of Government | Module – 3 | Indian Polity | PcM 2022

01:09:00

Parliamentary form of government | Module 3 | Indian Polity | PDF

00:10:00

Basic Structure of the Constitution | Module – 4 | Indian Polity | PcM 2022

00:32:00

Basic structure of the constitution_Module 4_Indian Polity.pdf

00:10:00

Preamble of the Constitution | Module – 5 | Indian Polity | PcM 2022

01:16:00

Preamble of the constitution_Module 5_Indian Polity.pdf

00:10:00

Majorities Under Indian Constitution | Module – 6 | Indian Polity | PcM 2022

00:29:00

Majorities under indian constitution_Module 6 _ Polity _PcM 2022.pdf

00:10:00

Amendment to the Constitution | Module – 7 | Indian Polity | PcM 2022

00:28:00

Amendment to the constitution_Module 7_Polity _PcM 2022 | PDF

00:10:00

The Union and it's Territory | Module – 8 | Indian Polity | PcM 2022

00:57:00

The Union and it's Territory | Module – 8 | Indian Polity | pdf

00:05:00

Test Discussion – 1 | Module 1 to 5 | Indian Polity | PcM 2022

01:00:00

Fundamental Rights | Part – 1 | Module – 9 | Indian Polity | PcM 2022

01:35:00

Fundamental Rights | Part – 2 | Module – 9 | Indian Polity | PcM 2022

01:20:00

Fundamental Rights | Part – 3 | Module – 9 | Indian Polity | PcM 2022

00:57:00

Fundamental Rights | Part – 4 | Module – 9 | Indian Polity | PcM 2022

00:57:00

Fundamental Rights | Part – 5 | Module – 9 | Indian Polity | PcM 2022

01:12:00

Module – 9 | Part – 1 | Fundamental Rights | Indian Polity.pdf

00:05:00

Module – 9 | Part – 2 | Fundamental Rights | Indian Polity.pdf

00:05:00

Module – 9 | Part – 3 | Fundamental Rights | Indian Polity.pdf

00:05:00

Directive Principles of State policy | Module – 10 | Indian Polity | PcM 2022

01:28:00

Module 10 | Directive principles of state policy | Indian Polity.pdf

00:05:00

Fundamental Duties | Module – 11 | Indian Polity | PcM 2022

00:12:00

Module 11 – fundamental duties | Indian Polity.pdf

00:05:00

Parliament | Module – 12 | Part – 1 | Indian Polity | PcM 2022

01:05:00

Parliament | Module – 12 | Part – 2 | Indian Polity | PcM 2022

01:00:00

The Parliament of India | Part – 2 | Module – 12 | Indian Polity | PcM 2022.pdf

00:10:00

Parliament | Module – 12 | Part – 3 | Indian Polity | PcM 2022

01:21:00

The Parliament of India | Part – 3 | Module – 12 | Indian Polity | PcM 2022.pdf

00:10:00

Parliament | Module – 12 | Part – 4 | Indian Polity | PcM 2022

01:10:00

The Parliament of India | Part – 4 | Module – 12 | Indian Polity | PcM 2022 | PDF

00:10:00

Parliament | Module – 12 | Part – 5| Indian Polity | PcM 2022

01:00:00

The Parliament of India | Part – 5 | Module – 12 | Indian Polity | PcM 2022.pdf

00:10:00

Parliament | Module – 12 | Part – 6 | Indian Polity | PcM 2022

00:52:00

The Parliament of India | Part – 6 | Module – 12 | Indian Polity | PcM 2022.pdf

00:10:00

Parliament | PYQs | Module – 12 | Part – 1 | Indian Polity | PcM 2022

00:57:00

Parliament | PYQs | Module – 12 | Part – 2 | Indian Polity | PcM 2022

01:00:00

Parliament _Module 12_ Polity_ PcM 2021_PYQS.pdf

00:10:00

State Legislature| Module – 13 | Part – 1| Indian Polity | PcM 2022

00:57:00

State Legislature | Module – 13 | Part – 1 | Polity | PcM 2022.pdf

00:10:00

State Legislature| Module – 13 | Part – 2| Indian Polity | PcM 2022

00:57:00

State Legislature | Module – 13 | Part – 2 | Polity | PcM 2022.pdf

00:10:00

The President of India | Module – 14 | Part – 1 | Indian Polity | PcM 2022

01:28:00

The President of India | Module – 14 | Part – 2 | Indian Polity | PcM 2022

00:50:00

The Vice-President | Module – 15 | Indian Polity | PcM 2022

00:40:00

Vice president | Module 15 | Polity | PcM | PDF

00:10:00

The Governor | Module – 16 | Part – 1 | Indian Polity | PcM 2022

00:58:00

The Governor | Module – 16 | Part – 2 | Indian Polity | PcM 2022

00:56:00

Governor| Module 16 | |Polity| PcM | PDF

00:10:00

Prime Minister and Central Council of Ministers | Module – 17 | Indian Polity | PcM 2022

00:55:00

Prime minister and com| Module 17 | Polity | PcM | PDF

00:10:00

Chief Minister and com | Module 18 | Polity| PcM | PDF

00:10:00

The Attorney General of India & The Advocate General of States | Module – 19 | Indian Polity | PcM 2022

00:19:00

Attorney and advocate general | Module 19 |Polity |PcM |PDF

00:10:00

The Supreme Court of India | Part – 1 | Module – 21 | Indian Polity | PcM 2022

01:25:00

The Supreme Court of India | Part – 2 | Module – 21 | Indian Polity | PcM 2022

01:16:00

Union Territory | Module – 20 | Indian Polity | PcM 2022

01:05:00

Module 20 | union territory | Indian Polity | PcM 2022.pdf

00:10:00

Supreme court | Module 21 | Polity | PcM 2021 | PDF

00:10:00

High Court | Module – 22 | Part – 1 | Indian Polity | PcM 2022

01:06:00

High Court | Module – 22 | Part – 2 | Indian Polity | PcM 2022

01:30:00

Module 22 | high court | Indian Polity | PcM 2022 | PDF

00:10:00

Subordinate Courts and other Legal Services | Module – 23 | Indian Polity | PcM 2022

00:22:00

Module 23 | Subordinate courts and other legal services | Indian Polity | PcM 2022.pdf

00:10:00

Tribunals | Module – 24 | Indian Polity | PcM 2022

01:00:00

Module 24 | Tribunals | Indian Polity | PcM 2022 | pdf

00:10:00

Local Self Government | Module – 25 | Indian Polity | PcM 2022

01:40:00

Module – 25 | Panchayats, Municipalities and Co-operative Societies | Indian Polity | PcM 2022.pdf

00:10:00

Emergency Provisions | Module – 26 | Indian Polity | PcM 2022

01:36:00

Emergency Provisions | Module – 26 | Part – 2 | Indian Polity | PcM 2022

00:20:00

Module 26 | Emergency provisions | Indian Polity | PcM 2022 pdf

00:10:00

Module – 22, 23, 24, 25, 26 | PYQ Discussion | Indian Polity | PcM 2022

00:42:00

Various Constitutional Bodies | Module – 27 | Indian Polity | PcM 2022

00:00:00

Module 27 | Various Constitutional Bodies | Indian Polity | PcM 2022.pdf

00:05:00

Various Constitutional Bodies PYQ Discussion | Module – 27 | Indian Polity | PcM 2022

00:16:00

Various Non-constitutional Bodies | Module – 28 | Indian Polity | PcM 2022

00:49:00

Module 28 | Various non Constitutional Bodies | Indian Polity | PcM 2022.pdf

00:05:00

Elections and political Parties | Module – 29 | Indian Polity | PcM 2022

01:21:00

Module – 29 | Elections and Political Parties| Indian Polity | PcM 2022.pdf

00:10:00

Miscellaneous Topics | Module – 30 | Indian Polity | PcM 2022

00:46:00

Module – 30 | Miscellaneous Topics | Indian Polity | PcM 2022.pdf

00:10:00

Error Correction | Indian Polity | PcM 2022

01:50:00

Economy
Introduction & PYQ Analysis | Indian Economy | PcM 2022

01:23:00

National Income | Part – 1 | Module – 1 | Indian Economy | PcM 2022

00:58:00

National Income | Part – 2 | Module – 1 | Indian Economy | PcM 2022

00:57:00

National Income | Part – 3 | Module – 1 | Indian Economy | PcM 2022

00:51:00

National Income | Part – 4 | Module – 1 | Indian Economy | PcM 2022

00:59:00

National Income | Part – 5 | Module – 1 | Indian Economy | PcM 2022

00:51:00

National Income | Part – 6 | Module – 1 | Indian Economy | PcM 2022

01:33:00

Module – 1 | National Income | Indian Economy | PcM 2022.pdf

00:10:00

Inflation | Part – 1 | Module – 2 | Indian Economy | PcM 2022

01:30:00

Inflation | Part – 2 | Module – 2 | Indian Economy | PcM 2022

01:00:00

Inflation | Part – 3 | Module – 2 | Indian Economy | PcM 2022

00:45:00

Inflation | Part – 4 | Module – 2 | Indian Economy | PcM 2022

00:12:00

Inflation | Part – 5 | Module – 2 | Indian Economy | PcM 2022

00:47:00

Module – 2 | Inflation | Indian Economy | PcM 2022.pdf

00:10:00

Money and Banking | Part – 1 | Module – 3 | Indian Economy | PcM 2022

01:24:00

Money and Banking | Part – 2 | Module – 3 | Indian Economy | PcM 2022

01:03:00

Money and Banking | Part – 3 | Module – 3 | Indian Economy | PcM 2022

00:56:00

Money and Banking | Part – 4 | Module – 3 | Indian Economy | PcM 2022

01:30:00

Money and Banking | Part – 5 | Module – 3 | Indian Economy | PcM 2022

00:58:00

Money and Banking | Part – 6 | Module – 3 | Indian Economy | PcM 2022

00:43:00

Money and Banking | Part – 7 | Module – 3 | Indian Economy | PcM 2022

01:21:00

Money and Banking | Part – 8 | Module – 3 | Indian Economy | PcM 2022

01:28:00

Module – 3 | Money and banking | Indian Economy | PcM 2022.pdf

00:10:00

Money and Banking | PYQs discussion | Part – 9 | Module – 3| Indian Economy | PcM 2022

01:00:00

Financial Market | Part – 1 | Module – 4 | Indian Economy | PcM 2022

00:54:00

Financial Market | Part – 2 | Module – 4 | Indian Economy | PcM 2022

01:00:00

Financial Market | Part – 3 | Module – 4 | Indian Economy | PcM 2022

01:32:00

Financial Market | Part – 4 | Module – 4 | Indian Economy | PcM 2022

01:17:00

Financial Market | Part – 5 | Module – 4 | Indian Economy | PcM 2022

00:59:00

Module – 4 | Financial Market | Indian Economy | PcM 2022.pdf

00:10:00

Public Finance | Part – 1 | Module – 5 | Indian Economy | PcM 2022

00:46:00

Public Finance | Part – 2 | Module – 5 | Indian Economy | PcM 2022

01:09:00

Public Finance | Part – 3 | Module – 5 | Indian Economy | PcM 2022

01:13:00

Public Finance | Part – 4 | Module – 5 | Indian Economy | PcM 2022

01:34:00

Public Finance | Part – 5 | Module – 5 | Indian Economy | PcM 2022

01:19:00

Public Finance | Part – 6 | Module – 5 | Indian Economy | PcM 2022

01:20:00

Public Finance | Part – 7 | Module – 5 | Indian Economy | PcM 2022

01:06:00

Module – 5 | Public Finance | Part – 1 | Indian Economy | PcM 2022.pdf

00:10:00

Module – 5 | Public Finance | Part – 2 | Indian Economy | PcM 2022.pdf

00:10:00

Module – 5 | Public Finance | Part – 3 | Indian Economy | PcM 2022.pdf

00:10:00

Balance of Payments | Part – 1 | Module – 6 | Indian Economy | PcM 2022

00:49:00

Balance of Payments | Part – 2 | Module – 6 | Indian Economy | PcM 2022

00:54:00

Balance of Payments | Part – 3 | Module – 6 | Indian Economy | PcM 2022

01:14:00

Balance of Payments | Part – 4 | Module – 6 | Indian Economy | PcM 2022

00:24:00

Module – 6 | Balance of Payments| Indian Economy | PcM 2022.pdf

00:10:00

International Economic | Module – 7 | Indian Economy | PcM 2022

00:38:00

Module – 7 | International Economic Institutions| Indian Economy | PcM 2022.pdf

00:10:00

Foreign Exchange and Foreign Trade | Part – 1 | Module – 12 | Indian Economy | PcM 2022

01:18:00

Foreign Exchange and Foreign Trade | Part – 2 | Module – 12 | Indian Economy | PcM 2022

00:55:00

Module – 12 | Foreign Trade | Indian Economy | PcM 2022.pdf

00:10:00

Budget | Part – 1 | Indian Economy | PcM 2022

01:24:00

Budget | Part – 2 | Indian Economy | PcM 2022

01:00:00

Budget | Part – 3 | Indian Economy | PcM 2022

00:57:00

Economic Survey 2021-22 | part 1 |Economy | PcM 2022

01:20:00

Economic Survey 2021-22 part 2 |Economy |PcM 2022

01:37:00

Geography
Introduction & PYQ Analysis | Geography | PcM 2022

01:31:00

Basics Concepts of Physical Geography | Part – 1 | Module – 1 | PcM 2022

00:54:00

Basics Concepts of Physical Geography | Part – 2 | Module – 1 | PcM 2022

00:57:00

Physical Geography | Part – 2 | Session – 1 | PcM 2022

01:12:00

Physical Geography | Part – 2 | Session – 2 | PcM 2022

01:18:00

Oceanography | Part- 1 | Geography | PcM 2022

01:25:00

Oceanography -Part 2 | Ocean Currents, Tides and Waves | Geography | PcM 2022

01:05:00

Oceanography – 3 Types of Salinity and Temperature

01:18:00

Atmosphere-structure & composition| Module 1 |Climatology| Geography | PCM

00:35:00

Atmosphere: composition and structure | Climatology | Module – 1 | Geography | PcM | pdf

00:05:00

Insolation & Temperature | Module 2 | Climatology| Geography | PcM

01:16:00

Insolation and Temperature | Climatology | Module 2 | Geography|PcM 2021 | PDF

00:10:00

Atmospheric Circulation | Module – 3 | Climatology | Geography | PcM 2022

01:34:00

ATMOSPHERIC PRESSURE AND WIND Climatology | Module 3 | Geography | PcM 2021 | PDF

00:10:00

Water in The Atmosphere | Part – 1 | Module – 4 | Climatology | Geography | PcM 2022

01:00:00

Water in The Atmosphere | Part – 2 | Module – 4 | Climatology | Geography | PcM 2022

00:53:00

ATMOSPHERIC MOISTURE Climatology | Module 4 | Geography | PcM 2021 | PDF

00:10:00

El nino & La nina | Module – 5B | Climatology | Geography | PcM 2022

00:58:00

EL NINO AND LA NINA Climatology |Module 5 B|Geography | PcM 2021 | PDF

00:10:00

Indian Climate | Part – 1 | Module – 6 | Climatology | Geography | PcM 2022

00:54:00

Indian Climate | Part – 2 | Module – 6 | Climatology | Geography | PcM 2022

00:54:00

Indian Monsoon Climatology | Module 6 | Geography | PcM 2021 | PDF

00:10:00

Cyclones | Module – 7 | Part 1 | Climatology | Geography | PcM 2022

01:06:00

Cyclones | Module – 7 | Part 2 | Climatology | Geography | PcM 2022

01:05:00

Cyclones, thunderstorms and tornadoes Climatology |Module 7A|Geography|PcM 2022 | PDF

00:10:00

Temperate-Cyclones , Jet streams and Western Disturbance | Module 7B | Climatology | PcM 2022.pdf

00:10:00

Climatology | Part – 1 | Geography | PcM 2022

01:28:00

Climatology | Part – 2 | Geography | PcM 2022

01:35:00

Climatology | Part – 3 | Geography | PcM 2022

01:23:00

Climatology | Part – 4 | Geography | PcM 2022

01:20:00

Climatology | Part – 5 | Geography | PcM 2022

01:07:00

Climatology | Part – 6 | Geography | PcM 2022

01:08:00

Climatology | Part – 7 | Geography | PcM 2022

00:53:00

Climatology | Part – 8 | Geography | PcM 2022

00:58:00

Indian Geography | Part – 1 | Geography | PcM 2022

01:16:00

Indian Geography | Part – 2 | Geography | PcM 2022

00:47:00

Indian Geography | Part – 3 | Geography | PcM 2022

01:00:00

Indian Geography | Drainage Systems | Part – 1 | Geography | PcM 2022

01:00:00

Indian Geography | Drainage Systems | Part – 2 | Geography | PcM 2022

01:14:00

Indian Geography | Drainage Systems | Part – 3 | Geography | PcM 2022

00:54:00

Indian Geography | Indian monsoon | Geography | PcM 2022

00:51:00

Indian Geography | Final Part | Geography | PcM 2022

00:35:00

Environmental Science
Introduction & PYQ Analysis | Environment | PcM 2022

00:41:00

Ecosystem | Module – 1 | Environment | PcM 2022

01:37:00

Module – 1 | Ecosystem | Part – 1 | Environment | PcM 2022.pdf

00:05:00

Biogeochemical Cycles | Module – 2 | Environment | PcM 2022

01:02:00

Module – 2 | Biogeochemical Cycles | Environment | PcM 2022.pdf

00:05:00

Biodiversity and Conservation| Module – 3 | Environment | PcM 2022

01:48:00

Module – 3 | Biodiversity and Conservation |Part – 1| Environment | PcM 2022.pdf

00:05:00

Biodiversity and Conservation | Part – 2 | Module – 3 | Environment | PCM 2022

01:00:00

Module – 3 | Biodiversity and Conservation | Part – 2 | Environment | PcM 2022 | PDF

00:05:00

Terrestrial Biomes | Module 4 | Environment |PcM 2022

01:50:00

Module – 4 | Terrestrial Biomes | Environment | PcM 2022.pdf

00:05:00

Aquatic Biomes | Module – 5 | Environment | PcM 2022

01:28:00

Module – 5 | Aquatic Biomes | Environment | PcM 2022.pdf

00:05:00

Environmental Laws | Module – 6 | Environment | PcM 2022

01:23:00

Module – 6 | Environmental Laws | Environment | PcM 2022.pdf

00:05:00

Indian Organisations | Module – 7.1 | Environment | PcM 2022

01:20:00

Module – 7.1 | Part – 1 | Indian Organisations | Environment | PcM 2022.pdf

00:05:00

International Environmental Organisations | Part – 1 | Module – 7.2 | Environment | PcM 2022

00:53:00

International Environmental Organisations | Part – 2 | Module – 7.2 | Environment | PcM 2022

01:06:00

Module – 7.2 | International Environmental Organisations | Environment | PcM 2022.pdf

00:05:00

Biosphere Reserves | Module – 8 | Environment | PcM 2022

01:20:00

Module – 8 | Biosphere Reserves | Environment | PcM 2022.pdf

00:05:00

Protected Areas | Part – 1 | Module – 9 | Environment | PcM 2022

01:00:00

Protected Areas | Part – 2 | Module – 9 | Environment | PcM 2022

00:52:00

Module – 9 | Protcted Areas | Environment | PcM 2022.pdf

00:05:00

Climate Change | Module – 10 | Environment | PcM 2022

01:30:00

Climate Change | Module – 10 | Environment | PcM 2022.pdf

00:10:00

Environmental Pollution | Module – 11 | Environment | PcM 2022

01:12:00

Module – 11 | Pollution | Environment | PcM 2022.pdf

00:10:00

Environmental Impact Assessment | Module – 12 | Environment | PcM 2022

00:58:00

Module – 12 | EIA | Environment | PcM 2022 .pdf

00:10:00

Science and Technology
Biotechnology and Nanotechnology | Science & Technology | PcM 2022

01:18:00

CSAT
Averages | Module – 1 | CSAT | PcM 2022

01:25:00

Module – 1 | Average | CSAT | PcM 2022.pdf

00:05:00

Module – 1 | Average | Questions | CSAT | PcM 2022.pdf

00:05:00

Ratio and Proportion | Module – 2 | CSAT | PcM 2022

00:47:00

Ratios and proportion | Module 2 | CSAT | PcM 2022.pdf

00:05:00

Reading Comprehension 1.1 | CSAT | PcM 2022

01:00:00

Percentage | Part – 1 | Module – 3 | CSAT-BL | PcM 2022

01:00:00

Percentage | Part – 2 | Module – 3 | CSAT-BL | PcM 2022

00:47:00

Module – 3 | Percentages | CSAT | PcM 2022.pdf

00:06:00

Module – 3 | Percentages – Let's Practice | CSAT | PcM 2022.pdf

00:05:00

Dices | Module – 4 | CSAT – BL| PcM 2022

00:39:00

Module – 4 | Dices | CSAT | PcM 2022.pdf

00:05:00

Profit and Loss | Module – 5 | CSAT | PcM 2022

01:11:00

Module – 5 | Profit and loss Questions | CSAT | PcM 2022 .pdf

00:05:00

Blood Relations | Module – 6 | CSAT | PcM 2022

01:09:00

Module – 6 | Blood Relations | CSAT | PcM 2022.pdf

00:05:00

Work and Time | Part – 1 | Module – 7 | CSAT | PcM 2022

01:23:00

Work and Time | Part – 2 | Module – 7 | CSAT | PcM 2022

01:35:00

Module – 7 | Work and Time | CSAT | PcM 2022 .pdf

00:05:00

Speed Distance | Part – 1 | Module – 8 | CSAT | PcM 2022

00:56:00

Speed Distance | Part – 2 | Module – 8 | CSAT | PcM 2022

01:11:00

Reading Comprehension strategy cum Practice 2 | CSAT- BL | PcM 2022

01:02:00

Set Theory | Module – 9 | CSAT | PcM 2022

00:54:00

Set Theory | CSAT | PcM 2022.pdf

00:10:00

LCM and HCF | Module – 10 | CSAT | PcM 2022

00:50:00

LCM and HCF | Part – 2 | Module – 10 | CSAT | PcM 2022

00:39:00

Module – 10 | LCM and HCF | CSAT | PcM 2022.pdf

00:10:00

Seating Arranegment | Module – 11 | CSAT | PcM 2022

00:53:00

Permutation and Combination | Module – 12 | CSAT | PcM 2022

00:46:00

Module – 12 | Permutation | CSAT | PcM 2022.pdf

00:10:00

Probability | Module – 13| CSAT | PcM 2022

00:35:00

Module – 13 | Probability | CSAT | PcM 2022.pdf

00:10:00

Data Interpretation | Module – 14 | CSAT | PcM 2022

00:30:00

Module – 14 | Data Interpretation| CSAT | PcM 2022 .pdf

00:10:00

Reading Comprehension | Tips & Techniques | CSAT | PcM 2022

01:23:00

Reading Comprehension | Understanding Question Key Words | CSAT | Part-1 | PcM 2022

01:07:00

Reading Comprehension | Understanding Question Key Words | CSAT | Part-2 | PcM 2022

00:47:00

Arithmetic progression | Module 15 | CSAT | PcM

01:17:00

Module 15 – Arithmetic progression | CSAT | PcM 2022.pdf

00:10:00

Problems Based On Ages | Module 16 |CSAT | PcM

00:45:00

Module 16- problems based on ages| CSAT | PcM 2022.pdf

00:10:00

Simple Interest | Module 17- | CSAT | PcM

01:00:00

Module – 17 SIMPLE INTEREST | CSAT | PcM 2022.pdf

00:10:00

Data Sufficiency | Module 18 | CSAT | PcM

00:26:00

Module – 18 Datasufficency | CSAT | PcM 2022.pdf

00:10:00

Mains GS 1
Main History | Art & Culture
Art and Architecture Part – 1 | Art & Culture | Pcm 2022

01:17:00

Art and architecture | Part 1 |Mains GS 1|PcM 2022 | PDF

00:05:00

World History
Industrial Revolution | Part – 1 | Module – 1 | World History | Pcm 2022

01:32:00

Industrial Revolution | Part – 2 | Module – 1 | World History | Pcm 2022

01:17:00

Industrial revolution | Module – 1 | World History | PcM 2022.pdf

00:10:00

American Revolution | Module – 2 | World History | Pcm 2022

01:32:00

American Revolution | Module – 2 | World History | PcM 2022.pdf

00:10:00

French Revolution | Module – 3 | Part-1 | World History | PcM 2022

00:57:00

French Revolution | Module – 3 | World History | Pcm 2022

01:06:00

French Revolution | Module 3 | World History | PcM | PDF

00:10:00

Eastern Question | Module – 4 | World History | Pcm 2022

01:15:00

Eastern Question |Module 4 |World History|PcM.pdf

00:10:00

Emergence of Modern Turkey | Module – 5 | World History | Pcm 2022

00:36:00

Modern Turkey | Module 5 | World History | PcM.pdf

00:10:00

Unification of Italy | Module – 6 | World History | Pcm 2022

01:14:00

Unification of Italy | Module 6 | World History | PcM.pdf

00:10:00

Unification of Germany | Module – 7 | World History | Pcm 2022

01:45:00

Unification of Germany |Module 7 |World History|PcM.pdf

00:10:00

World War – 1 | Part – 1 | Module – 8 | World History | PcM 2022

01:15:00

World War – 1 | Module – 8 | Part – 2 | World History | Pcm 2022

00:59:00

World War 1 | Module 8 | World History | PcM | PDF

00:10:00

League of Nations | Module – 9 | World History | Pcm 2022

01:05:00

The League of Nations | Module 9 | World History | PcM | PDF

00:10:00

Russian Revolution | Part – 1 | Module – 10 | World History | Pcm 2022

00:52:00

Russian Revolution | Part – 2 | Module – 10 | World History | Pcm 2022

01:00:00

Russian Revolution | Module 10 | World History | PcM | PDF

00:10:00

Great Depression | Part – 1 | Module – 11 | World History | Pcm 2022

00:45:00

Great Depression | Part – 2 | Module – 11 | World History | Pcm 2022

01:10:00

The Great Depression | Module 11 | World History | PcM | PDF

00:10:00

World War – 2 | Part – 1 | Module – 12 | World History | Pcm 2022

01:18:00

World War – 2 | Part – 2 | Module – 12 | World History | Pcm 2022

01:27:00

World War II |Module 12 |World history| PcM 2022.pdf

00:05:00

The United Nations | Module – 13 | World History | Pcm 2022

01:12:00

United Nations |Module 13 |World history| PcM 2022 | pdf

00:05:00

Imperialism and Colonialism |Module 14 |World History | PcM

01:33:00

Decolonisation | Module – 15 | World History | PcM

00:29:00

Colonialism & Decolonisation |Module 14 & 15 | World History | PcM 2022 | PDF

00:06:00

Disintegration of USSR | Module – 16 | World History | Pcm 2022

01:05:00

Disintegration of USSR | Module 16 | World history | PcM 2022 | pdf

00:05:00

Indian Society
Introduction & PYQ Analysis | Indian Society | PcM 2022

01:07:00

Salient Features of Indian Society | Module – 1 | Indian Society | PcM 2022

01:30:00

SALIENT FEATURES OF INDIAN SOCIETY | MODULE 1.pdf

00:10:00

Diversity of India | Module – 2 | Indian Society | PcM 2022

00:45:00

Diversity of India | Module – 2 | Society GS – 1 | PcM 2022.pdf

00:10:00

Population and Associated Issues | Module – 3 | Indian Society | PcM 2022

01:10:00

Population and Related Issues | Indian Society | PcM 2022 .pdf

00:10:00

Urbanization | Module – 4 | Indian Society | PcM 2022

00:55:00

Urbanization their Problems and remedies | Module – 4 | Indian Society | PcM 2022 | PDF

00:10:00

Role of Women and Women's Organisation | Module – 5 | Indian Society | PcM 2022

01:35:00

Role of Woman and Woman's Organization | Indian Society | pdf

00:05:00

Social Empowerment | Module – 6 | Indian Society | PcM 2022

00:55:00

Poverty and Developmental Issues | Module – 7 | Indian Society | PcM 2022

01:17:00

Poverty and Developmental Issues | Module – 7 | Indian Society | PcM 2022.pdf

00:05:00

Effects of Globalisation | Module – 8 | Indian Society | PcM 2022

01:09:00

Globalization | Module – 8 | Indian Society | PcM 2022.pdf

00:05:00

Communalism & Regionalism & Secularism| Module – 9 | Indian Society | PcM 2022

01:40:00

Mains GS 2
International Relations
Introduction & PYQ Analysis | International Relations | PcM 2022

00:52:00

India China relation | International Relations | PcM 2022

00:55:00

India China relations | Module 2 | IR | GS 2 | PcM | PDF

00:10:00

India China relation |PART-2 | International Relations | PcM 2022

01:07:00

India – Bhutan Relations | International Relations | PcM 2022

00:59:00

India – Srilanka Relations | International Relations | PcM 2022

01:00:00

INDIA AND HER NEIGHBORS | IR | Module.pdf

00:10:00

India – Myanmar Relations | International Relations | PcM 2022

01:07:00

India Myanmar Relations |Module 7| IR |PcM | PDF

00:10:00

India – Maldives Relations | International Relations | PcM 2022

00:34:00

India Maldives | Module 8 | IR | PcM 2021 | PDF

00:10:00

India – Nepal Relations | International Relations | PcM 2022

01:00:00

India – Bangladesh Relations | International Relations | PcM 2022

01:00:00

India – Pakistan Relation | Part – 1 | International Relations | PcM 2022

01:11:00

India – Pakistan Relation | Part – 2 | International Relations | PcM 2022

00:55:00

India – Afghan Relations | Part – 1 | International Relations | PcM 2022

01:02:00

India – Afghan Relations | Part – 2 | International Relations | PcM 2022

00:50:00

SAARC | International Relations | PcM 2022

00:25:00

SAARC | International Relations | PcM | PDF

00:05:00

BRICS | International Relations | PcM 2022

00:40:00

BIMSTEC Part – 1 | International Relations | PcM 2022

00:37:00

BIMSTEC | International Relations | PcM.pdf

00:05:00

SCO & GCC | International Relations | PcM 2022

01:31:00

GCC | International Relations | PcM.pdf

00:05:00

Asean | International Relations | PcM 2022

00:39:00

ASEAN | International Relations | PcM.pdf

00:05:00

India – Russia Relations| International Relations | PcM 2022

01:01:00

India – Russia Relations | International Relations.pdf

00:05:00

India – Israel Relations | International Relations | PcM 2022

01:09:00

India – Israel Relations | International Relations .pdf

00:05:00

India – US Relations | International Relations | PcM 2022

01:14:00

India US Relations | International Relations | PCM .pdf

00:05:00

India – Central Asia Relations | International Relations | PcM 2022

00:37:00

India – Central Asia Relations | International Relations | PCM.pdf

00:05:00

Social Justice
Introduction | Social Justice | PcM 2022

01:14:00

NGO | Module – 1 | Social Justice | PcM 2022

00:50:00

SHG | Module – 2 | Social Justice | PcM 2022

01:11:00

Rural & Urban Development | Module – 3 & 4 | Social Justice | PcM 2022

01:39:00

Rural development Module 3 | Social Justice |GS 2| 2022-2023 | PDF

00:05:00

Urban Development Module 4 | Social Justice |GS 2| 2022-2023 | PDF

00:05:00

Women| Module – 5| Social Justice | PcM 2022

01:15:00

Women Module 8 | Social Justice |GS 2| 2022-2023 | PDF

00:05:00

Children| Module – 6| Social Justice | PcM 2022

00:29:00

Children Module 9 | Social Justice |GS 2| 2022-2023 | PDF

00:05:00

Human Resources Women | Module – 7 | Social Justice | GS – 2 | PcM 2021

00:34:00

Human Resources Module 7 | Social Justice |GS 2| 2022-2023 | PDF

00:05:00

Health | Module – 8 | Social Justice | GS – 2 | PcM

00:49:00

Health Module 5 | Social Justice |GS 2| 2022-2023 | PDF

00:05:00

Education | Module – 9 | Social Justice | PcM 2022

01:07:00

Education |Module 6| Social Justice |GS 2| 2022-2023 | PDF

00:05:00

Issues Relating to Poverty and Hunger | Module – 10 | Social Justice | GS – 2 | PcM 2021

00:35:00

Issues relating to poverty and hunger Module 10 | Social Justice |GS 2| 2022-2023 | PDF

00:05:00

Mains GS 3
Internal Security
Introduction & PYQ Analysis | Security | PcM 2022

01:29:00

Linkages between Development and Extremism | Part – 1 | Module – 1 | Internal security | PcM 2022

01:10:00

Linkages between Development and Extremism | Part – 2 | Module – 1 | Internal security | PcM 2022

00:42:00

Linkages between Development and Spread of Extremism | Module – 1 | Internal security | pdf

00:05:00

Left Wing Extremism in India | Part – 1 | Module – 2 | Internal security | PcM 2022

01:09:00

Left Wing Extremism in India | Part – 2 | Module – 2 | Internal security | PcM 2022

00:43:00

Left Wing Extremism| Module – 2 | Internal security | pdf

00:05:00

Insurgency in North East | Module – 3 | Internal Security | PCM 2022

01:01:00

Insurgency in the North East | Module – 3 | Internal security | pdf

00:05:00

Militancy in Jammu kashmir | Module – 4 | Internal security | PcM 2022

01:22:00

Militancy in Jammu kashmir | Module – 4 | Internal security | pdf

00:05:00

Terrorism | Part – 1 | Module – 5 | Internal Security | PcM 2022

00:50:00

Terrorism | Part – 2 | Module – 5 | Internal Security | PcM 2022

00:55:00

Border Management |Part – 1|Module – 6|Internal Security |PcM 2022

00:50:00

Border Management |Part – 2|Module – 6|Internal Security |PcM 2022

01:20:00

Border Management |Part – 3 | Module – 6|Internal Security |PcM 2022

01:17:00

Border Management |Part – 4 | Module – 6|Internal Security |PcM 2022

00:53:00

Border Management | Module 6|Security | PcM.pdf

00:10:00

Economy Mains
Introduction – Agriculture | Indian Economy | PcM 2022

01:20:00

Agriculture Introduction | Module – 1 | GS – 3 | PcM 2022-PDF

00:05:00

Economic Planning in India | Module – 8 | Indian Economy | PcM 2022

01:37:00

Economic Planning in India | Part – 1 | Module – 8 | Indian Economy | PcM 2022

01:37:00

Economic Planning in India | Part – 2 | Module – 8 | Indian Economy | PcM 2022

01:05:00

Economic Planning in India | Part – 3 | Module – 8 | Indian Economy | PcM 2022

00:59:00

Economic Planning in India | Part – 4 | Module – 8 | Indian Economy | PcM 2022

01:27:00

Economic Planning in India | Part – 5 | Module – 8 | Indian Economy | PcM 2022

01:22:00

Economic Planning In India | Module -8 | Economy.pdf

00:05:00

Inclusive Growth | Part – 1 | Module – 2 | Indian Economy | PcM 2022

01:20:00

Inclusive Growth | Part – 2 | Module – 2 | Indian Economy | PcM 2022

01:25:00

Inclusive Growth | Part – 3 | Module – 2 | Indian Economy | PcM 2022

01:30:00

Inclusive Growth | Part – 4 | Module – 2 | Indian Economy | PcM 2022

01:20:00

Major Crops | Part – 1 | Agriculture | Indian Economy | PcM 2022

01:32:00

Major Crops and Cropping Pattern | Module – 2 | GS – 3 | PcM 2022-PDF

00:05:00

Irrigation | Agriculture | Indian Economy | PcM 2022

01:25:00

New Different Types of Irrigation and Irrigation Systems | Module – 3 | GS – 3 | PcM 2022-PDF

00:05:00

Infrastructure | Part – 1 | Module – 13 | Indian Economy | PcM 2022

01:27:00

Infrastructure | Part – 2 | Module – 13 | Indian Economy | PcM 2022

01:37:00

Infrastructure | Part – 3 | Module – 13 | Indian Economy | PcM 2022

01:00:00

Infrastructure | Module – 13 | Economy | PcM 2022.pdf

00:05:00

Investment Models | Part – 1 | Module – 14 | Indian Economy | PcM 2022

00:52:00

Investment Models | Part – 2 | Module – 14 | Indian Economy | PcM 2022

01:06:00

Investment Models | Part – 3 | Module – 14 | Indian Economy | PcM 2022

00:56:00

Storage, Transportation and Marketing of Agricultural Produce | Module – 3 | Agriculture | Indian Economy | PcM 2022

01:37:00

Storage, Transportation and Marketing of Agricultural Produce | Module – 6 | GS – 3 | PcM 2022.pdf

00:05:00

Farm Subsidies | Module – 4 | Agriculture | Indian Economy | PcM 2022

01:19:00

Farm Subsidies | Module – 4 | GS – 3 | PcM 2022.pdf

00:05:00

MSP, PDS and Food Security | Module – 5 | Agriculture | Indian Economy | PcM 2022

00:55:00

MSP, PDS, Food Security | Module – 5 | GS – 3 | PcM 2022. pdf

00:05:00

Landforms in India | Module – 5 | Agriculture | Indian Economy | PcM 2022

01:37:00

Population and Demographic Divident | Module – 10 | Indian Economy | PcM 2022

00:50:00

Population and Demographic Divident | Part – 2 | Module – 10 | Indian Economy | PcM 2022

00:57:00

Mains GS 4
Ethics
Orientation | Ethics (GS – IV) | PcM 2022

00:15:00

Attitude | Module – 1 | Ethics (GS – IV) | PcM 2022

00:51:00

Attitude | Module – 1 | Part – 2 | Ethics (GS – IV) | PcM 2022

00:57:00

1.Attitude | Ethics | PcM.pdf

00:10:00

Aptitude & Foundational Values | Module – 2 | Part – 1 | Ethics (GS – IV) | PcM 2022

01:25:00

2.Aptitude and foundational values | Ethics | PcM.pdf

00:10:00

Emotional Intelligence | Module – 3 | Ethics (GS – IV) | PcM 2022

00:59:00

3. Emotional Intelligence | ethics | PcM.pdf

00:10:00

Ethics and Human Interface | Module – 4 | Ethics (GS – IV) | PcM 2022

01:15:00

Ethics and Human Interface | Part – 2 | Module – 4 | Ethics (GS – IV) | PcM 2022

01:00:00

Ethics and Human Interface | Part – 3 | Module – 4 | Ethics (GS – IV) | PcM 2022

00:43:00

4. Ethics and Human Interface | Ethics | PcM 2022.pdf

00:10:00

Contributions of Moral Thinkers and Philosophers | Module – 5 | Ethics (GS – IV) | PcM 2022

01:28:00

Ethics in public Administration | Part – 1 | Module – 6 | Ethics (GS – IV) | PcM 2022

00:52:00

Essay
1. Financial inclusion to empower the poor | Essay Challenger Series | Gallant IAS

00:05:00

2.Improving the energy sector in India – A comprehensive Strategy

00:05:00

3.Sustainable Environment is clean, green and healthy environment | Essay Challenger Series | Gallant IAS

00:05:00

4. Revamped primary health system for New India| Essay Challenger Series|Gallant IAS

00:05:00

Test
How to approach GS Q & answers to score well| session by Manju Chandran (AIR 553)

00:52:00

Current Affairs
Current Affairs | Introduction | PcM 2022

00:52:00

Current Affairs | Session – 1 | PcM 2022

01:09:00

Current Affairs | Session – 1 | PcM 2022 | PDF

00:10:00

Current Affairs | Session – 2 | PcM 2022

01:54:00

Current Affairs | Session – 2 | PcM 2022.PDF

00:12:00

Current Affairs | Session – 3 | PcM 2022

02:00:00

Current Affairs | Session – 3 | PcM 2022.pdf

00:10:00

Current Affairs | Session – 4 | PcM 2022

02:00:00

Current Affairs | Session – 4 | PcM 2022.pdf

00:10:00

Current Affairs | Session – 5 | PcM 2022

01:29:00

Current Affairs | Session – 5 | PcM 2022.pdf

00:10:00

Current Affairs | Session – 6 | PcM 2022

01:16:00

Current Affairs | Session – 6 | PcM 2022.pdf

00:10:00

Current Affairs | Session – 7 | PcM 2022

01:30:00

Current Affairs | Session – 7 | PcM 2022.pdf

00:10:00

Current Affairs | Session – 8 | PcM 2022

01:18:00

Current Affairs | Session – 8 | PcM 2022.pdf

00:10:00

Current Affairs | Session – 9 | PcM 2022

01:19:00

Current Affairs | Session – 9 | PcM 2022.pdf

00:10:00

Current Affairs | Session – 10 | PcM 2022

00:52:00

Current Affairs | Session – 10 | PcM 2022.pdf

00:10:00

Current Affairs | Session – 11 | PcM 2022

01:09:00

Current Affairs | Session – 11 | PcM 2022.pdf

00:10:00

Current Affairs | Session – 12 | PcM 2022

01:08:00

Current Affairs | Session – 12 | PcM 2022.pdf

00:10:00

Current Affairs | Session – 13 | PcM 2022

01:05:00

Current Affairs | Session – 13 | PcM 2022.pdf

00:10:00

Current Affairs | Session – 14 | PcM 2022

01:05:00

Current Affairs | Session – 14 | PcM 2022.pdf

00:10:00

Current Affairs | Session – 15 | PcM 2022

01:05:00

Current Affairs | Session – 15 | PcM 2022.pdf

00:10:00

Current Affairs | Session – 16 | PcM 2022

01:20:00

Current Affairs | Session – 16 | PcM 2022.pdf

00:10:00

Current Affairs | Session – 17 | PcM 2022

01:37:00

Current Affairs | Session – 17 | PcM 2022 | PDF

00:05:00

Current Affairs | Session – 18 | PcM 2022

01:00:00

Current Affairs | Session – 18 | PcM 2022.pdf

00:05:00

Current Affairs | Session – 19 | PcM 2022

01:26:00

Current Affairs | Session – 19 | PcM 2022.pdf

00:05:00

Current Affairs | Session – 20 | PcM 2022

01:18:00

Current Affairs | Session – 20 | PcM 2022.pdf

00:05:00

Current Affairs | Session – 21 | PcM 2022

01:23:00

Current Affairs | Session – 21 | PcM 2022.pdf

00:10:00

Current Affairs | Session – 22 | PcM 2022

01:24:00

Current Affairs | Session – 22 | PcM 2022.pdf

00:05:00

Current Affairs | Session – 23 | PcM 2022

01:15:00

Current Affairs | Session – 23 | PcM 2022.pdf

00:05:00

Current Affairs | Session – 24 | PcM 2022

01:32:00

Current Affairs | Session – 24 | PcM 2022.pdf

00:05:00

Current Affairs | Session – 25 | PcM 2022

01:30:00

Current Affairs | Session – 25 | PcM 2022.pdf

00:05:00

Current Affairs Mains
Current Affairs | Exclusive Mains | Part – 1 | PcM 2022

00:55:00

Current Affairs | Exclusive Mains | Part – 2 | PcM 2022

01:01:00

Current Affairs – Session – 2 | Part – 1 | Exclusive Mains | PcM 2022

01:00:00

Current Affairs – Session – 2 | Part – 2 | Exclusive Mains | PcM 2022

00:51:00

GS – 2 Current Affairs Mains Exclusive.pdf

00:05:00

GS – 3 Current Affairs Mains Exclusive.pdf

00:05:00

Yearly Current affairs - Quick Discussion
Yearly Current affairs – Quick Discussion| Part-1 | PcM 2022

00:00:00

Yearly Current affairs – Quick Discussion| Part-2 | PcM 2022

00:51:00

Yearly Current affairs – Quick Discussion| Part-3 | PcM 2022

00:53:00

Yearly Current affairs – Quick Discussion| Part-4 | PcM 2022

00:48:00

RRR
Prelims 2022 | How To Score Above Cut Off | Nishidha ma'am |PcM 2022

01:18:00

RRR | Quick Revision | Part-1 | PcM 2022

00:47:00

RRR | Quick Revision | Part-2 | PcM 2022

00:54:00

Science Technology| RRR | Part-2| PcM

00:28:00

Science Technology| RRR | Part-1| PcM

00:44:00

Science & Technology Quick Revision (Prelims 2022 RRR).pdf

00:10:00

Current affairs Quick Revision |Prelims 2022 RRR| Gallant IAS

00:10:00

RRR | History | Ancient & Medieval | Quick Revision | Part-1 | PcM 2022

01:37:00

RRR | History | Ancient & Medieval | Quick Revision | Part-2 | PcM 2022

00:51:00

RRR | History | Ancient & Medieval | Quick Revision | Part-3 | PcM 2022

00:50:00

RRR | History | Modern India | Quick Revision | Part-1 | PcM 2022

01:25:00

RRR | History | Modern India | Quick Revision | Part-2 | PcM 2022

01:43:00

RRR | CSAT | Quick Revision | Part-1 | PcM 2022

00:52:00

RRR |CSAT | Quick Revision | Part-2| PcM 2022

01:20:00

CSAT 2021 PYQS | RRR | PCM 2022.pdf

00:05:00

KGF | Knitting Golden Facts | Quick Revision | Part-1 | PcM 2022

01:08:00

KGF| Knitting Golden Facts | Quick Revision | Part-2 | PcM 2022

00:41:00

Chakde Mains
Orientation | How to answer in Mains| Mains Test Series | Chak de Mains 2022

00:59:00

Performance assessment-History | Chak De Mains | Mains Mentorship |2022

00:34:00

Performance Assessment & Value addition -Society & IR | Chak De Mains | Mains Mentorship |2022

00:13:00

Fundamentals of GS answer writing | Chak de Mains- Mains answer writing program | Gallant IAS

00:43:00

Bell 2 | Chak De
History Question cum Answer Booklet.pdf

00:10:00

Decoding the Directives of UPSC PYQs | Chak De Mains |2022

00:38:00

Decoding the Directives of UPSC PYQs.pdf

FREE

00:10:00

History & Culture Test | How to approch? |Chak De Mains |2022

00:30:00

Question cum Answer Booklet geography & Society | Chakde Mains.pdf

00:10:00

Bell 2 Test 3 Question cum Answer Booklet -POLITY.pdf

00:10:00

Bell 2 | Test 3 Polity Answers Sketch

00:10:00

Bell 2 Test 4 Question_cum_Answer_Booklet_Social_justice_&_international_relations.pdf

00:10:00

IR & Social Justice Answer Key .pdf

00:10:00

ECONOMY & AGRICULTURE | Bell 2 | Question Paper | Test 5 | Chakde Mains.pdf

00:10:00

GAMMA-MAINS 2022 CURRENT AFFAIRS ARCHIEVS.pdf

FREE

00:10:00

TEST 5 ANSWER KEY | ECONOMY & AGRICULTURE | PART 2.pdf

00:10:00

Bell 2| Test 6 | Question cum Answer Booklet |Science & Tech security and Disaster.pdf

00:10:00

Bell 2 | Test 7 | Question cum Answer Booklet | Ethics.pdf

00:10:00

Bell 3
Essay Question cum Answer Booklet.pdf

00:10:00

ESSAY TOPICS QUOTES PHILOSOPHY.pdf

00:10:00

GS 1 Question_cum_Answer_Booklet_ full test 1.pdf

00:10:00

GS 2 Question_cum_Answer_Booklet_ full test 2 .pdf

00:10:00

GS 3 Question_cum_Answer_Booklet_ full test 3.pdf

00:10:00