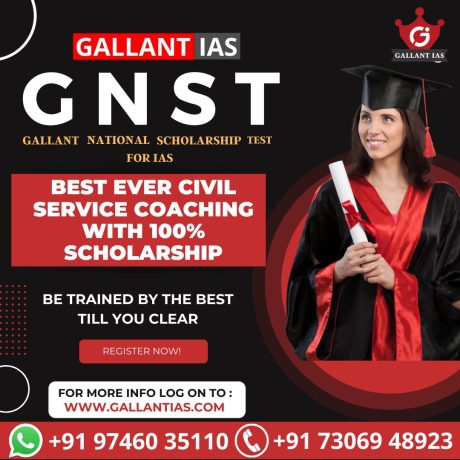 Upsc scholarship exam is here.It is the best time for applying for upsc scholarship test.https://gallantias.com/There are lots of meritorious UPSC CSE aspirants find it difficult to take institutional guidance for Civil service Exam due to heavy coaching fee and poor economic conditions.We, GALLANT IAS, committed to deliver India's best UPSC CSE coaching and guidance to all UPSC aspirants without compromising the quality and Quantity, have decided to support aspirants with scholarships upto 100%.
Prelims cum Mains Course 2023
Gallant IAS offers very comprehensive and dynamic Prelims cum Mains course for CSE 2023 that will broadly cover all the three stages of Exam. This course is specially crafted for those aspirants who find the Civil Service Exam difficult and unaffordable.
Our features:
Comprehensive coverage of both Prelims and Mains syllabus.
Course completion in 700+ hours.
Experienced & Expert faculty support
Small batch size of 50 for improved individual mentorship.
Topic-wise tests, monthly tests.
All India ranking performance assessment
Daily answer writing practice 7 daily feedback.
24×7 availability for doubt clearance
Newspaper analysis sessions.
Best class Study materials for each module/topic
Periodic sessions for Motivation & support
Mentorship by Exam toppers
Each student will be provided a mentor for effective guidance
Scholarship category
Category
A 100% (for 25 students)
B 75% (for 20 students)
C 50% (for 20 students)
D 25% (for 20 students)
E 15% (for 20 students)
Mode of exam online & offline (objective test)
Duration of test 2 hours
Total number of questions 100 Questions
Total marks 200 marks
No. of Questions, Subject wise
Current events of national and international importance (last one year) 20
History 15
Economics 20
Geography 10
Polity 12
Environment & Ecology 15
Science & Technology 8
Syllabus (Prelims paper 1 pattern)
Current events of national and international importance
History of India and Indian National Movement.
Indian and World Geography – Physical, Social, Economic Geography of India and the World.
Indian Polity and Governance – Constitution, Political System, Panchayati Raj, Public Policy, Rights Issues, etc.
Economic and Social Development – Sustainable Development, Poverty, Inclusion, Demographics, Social Sector initiatives, etc.
General issues on Environmental Ecology, Bio-diversity and Climate Change
General Science